Every successful construction project begins with infrastructure done right.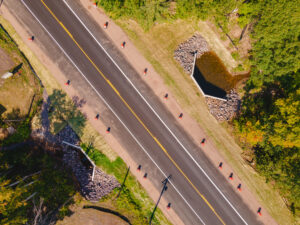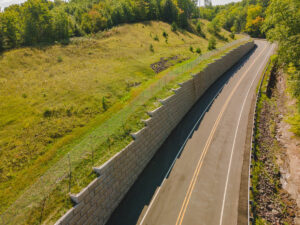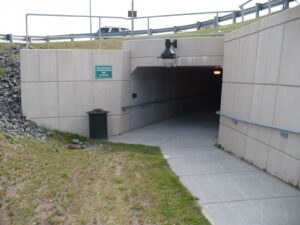 Title: M-26 and US-41 Bridge Approach Location: Houghton, Michigan Postal code: 49931 Phase: complete Delivery method: Design-Bid-Build Budget: $4,200,000 Size: 12.0 Moyle
Read More >
Moyle Sitework: Better from the Ground Up
Every successful construction project begins with sitework done right. At Moyle, we understand that an owner needs more than just a contractor…they need a partner on the project. To bring the project in on time and on budget, we must work together with all trades to coordinate project scheduling and activities. Moyle brings unique advantages to sitework projects.
Because of our relationship with our sister companies, we can provide all types of sand and gravel from pits throughout the Keweenaw Peninsula. Our in-house repair facility keeps our equipment in top operating condition to reduce downtime. To improve accuracy, increase safety, and reduce costs we employ the latest GPS and surveying technology to precisely control tight tolerances of finished grade specifications and provide accurate grades. From airports to bridges to roadwork to wastewater treatment facilities, Moyle can meet your sitework needs for a wide range of projects.
Commercial Site Development
Subdivision Site Development
Site Design
Site Remediation
Site Surveying and Layout
Fine Grading and Topsoil
Water, Sanitary, and Storm
Systems
Precast Tunnels
Dredging
Shoreline Stabilization
Docks and Sheathing
Mass Excavation and Fill
Clearing and Grubbing
Hoisting Services
Trucking
Certified Michigan Construction Stormwater Operators
Certified Michigan Industrial Stormwater Operators
Site Soil Erosion and Sediment Control Planning, Implementation, and Recording
Crushing Operation
In addition to our Houghton, Michigan based sand and gravel production services through Valley View Quarry, Moyle, Inc. also has the capabilities and equipment to produce aggregates in locations throughout Michigan's Upper Peninsula. Our mobile operations allow us to move to your site and produce materials at a lower cost than trucking the materials to a permanent location to be produced.
Crushing Equipment
JCI 16X6 twin 36″ screw portable wash plant
Pioneer 42″ Jaw crusher
Svedala 500 series cone
7×20 JCI screen plant
Multiple Kafka conveyors
Komatsu Wa 500 loaders
Komatsu D-155 bulldozers
Mobile aggregate testing facility to maintain quality control
Adams Township Wastewater Treatment Facility
Bayside Boardwalk
Bayside Site Development
Carp Lake Township Wastewater Treatment Facility
East Manistique Infrastructure Project
Houghton County Memorial Airport
M-26 and US-41 Bridge Approach
M-26 Curve Realignment
Mason Sands EPA Superfund
Michigan Tech Great Lakes Research Center
MTU Foresty Road Reconstruction
North Houghton County Wastewater Treatment Facility
Torch Lake EPA Superfund Sites
Victoria Dam Penstock
Walmart Supercenter #1936 Sitework
Walmart Supercenter #5444 Sitework
Walmart Supercenter #2192 Sitework
Excavators
Graders
Loaders
Dozers
Compactors
Semi-tractor/trailers
Dump trucks
Site trucks